Malawi arrest warning over flying old flags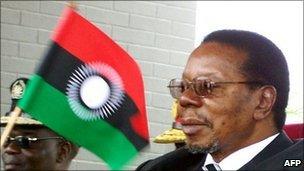 Malawi's government has warned anyone who displays the country's old national flag will face arrest and prosecution.
The information minister made the comments nearly a week after the launch of a new one.
Until his warning, the BBC's Raphael Tenthani in Malawi says most government offices were still flying the old flag.
The new flag features a full sun instead of the old flag's rising sun, to reflect Malawi's change from a developing to a developed nation.
"We cannot permanently live in the past," President Bingu wa Mutharika said when it was launched.
"The new flag depicts the status of our development."
Some opponents of the change have said the switch costs too much money.
"We have to change everything that bears the old flag. We could have better usage for that money considering that this year some parts of Malawi will starve," a group of Catholic priests said in a statement.
Information Minister, Symon Vuwa Kaunda, said there were no excuses for flying the old flag as the new ones were readily available in government stores.
But our reporter in Blantyre says it is not only institutions that have failed to fly the new flags.
Last week, many football supporters flocked to see their country play an African Nations Cup football qualifier wrapped in old flags, he says.
A group of fans challenged one policeman at the stadium in Blantyre: "Arrest all the players for their kit also sports the old and real flag."
Related Internet Links
The BBC is not responsible for the content of external sites.