Nigeria lorry in fatal motorway blaze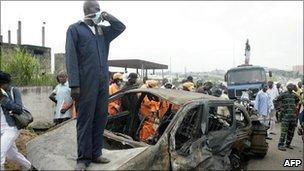 Up to 40 people are believed to have been killed on a Nigerian motorway when a lorry loaded with sugar crashed into a police checkpoint and burst into flames.
Witnesses told the BBC it rammed into waiting cars, including two packed minibuses, on the Lagos-Ibadan road.
They said 20 vehicles were affected and many bodies were burnt beyond recognition.
Police said there was no official checkpoint on the motorway on Sunday.
The BBC's Umar Shehu Elleman in Lagos says it is not uncommon to see unofficial road blocks where policemen solicit bribes.
He says there is no official figure of how many people died in the blaze.
Eyewitnesses say two minibuses, which are allowed to carry 18 passengers each, were completely burnt.
The owners of the vehicle carrying the sugar told the BBC that its two employees had died in the pile-up.
Related Internet Links
The BBC is not responsible for the content of external sites.