Nigeria's police told to share bribes with superiors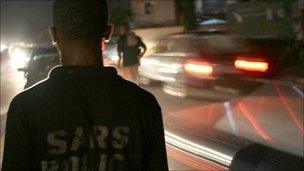 Corruption in Nigeria's police has become institutionalised and junior officers are expected to share bribes, US-based Human Rights Watch says.
Their report describes a system of "paying returns" when officers are expected to pay up the chain of command a share of extortion money.
It says officers have to pay bribes within the force to get posts and are expected to meet monetary targets.
A police spokesman said the study had "largely embellished innuendoes".
"The Nigeria Police Force has come a long way from its colonial era of oppression and has survived many years of neglect and under-funding," Emmanuel Ojukwu said in a statement.
The BBC's Caroline Duffield in Lagos says extortion of civilians and bribery of police is a fact of life in Nigeria - often taking place in public and in broad daylight.
Motorists at checkpoints, traders, businessmen, sex workers and those under arrest are extremely likely to encounter threats and demands for money.
There are also numerous cases of shootings and deaths at checkpoints when civilians refuse to pay, she says.
The Human Rights Watch report - running to 102 pages - says often victims of crime unable to pay will not get justice.
Meanwhile, wealthy criminals are able to bribe officers to drop a case or influence an investigation.
Police interviewed by Human Rights Watch, who spoke on condition of anonymity, said they were given no budget to carry out their duties.
"You go on patrol and meet your superior, and ask him for fuel. He will say, 'Where will I get it from?' So it is up to you to find a way to get fuel," one police sergeant in Lagos told the group's researchers.
The report accuses senior police officers and government ministers of failing to tackle deep and entrenched police abuses.
Our correspondent says successive governments have in the past admitted the scale of police corruption - but few recommendations by official investigations and reform groups have been heeded.
Related Internet Links
The BBC is not responsible for the content of external sites.