Nigeria singer Kuti picks sex song as key recording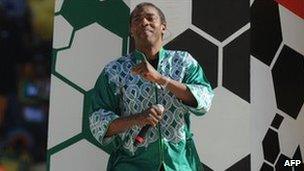 Legendary Nigerian protest singer Femi Kuti has chosen a song about sex, Beng Beng Beng, as the one which strikes a particular chord with his fans.
He told BBC World Service his hit about an imaginary encounter with a woman had won over even his toughest critics - such as his mother.
He recalled waking her one night in the early 1980s to tell her about a melody he could not get out of his mind.
"I told her I wanted to sing something different, about sex - she loved it."
"It was very, very rocky and funky," he said.
"I thought this was going to be a lovely song and I was really excited. I had done so many political songs and I wanted to do something very different, so I thought I would describe a sexual encounter with an imaginary girl, just off my head.
"My people in Nigeria would understand because any African that would hear the lyrics would just start laughing: 'Oh, what, if only - a sexual encounter!'"
The song proved a massive hit and won Kuti his first major recording deal, he said.
When the Nigerian authorities banned it over of its sexual content, he was angry since, he said, less innocent songs about the same subject were given airplay at the time.
He believes the ban was really imposed because of political songs he included on the accompanying album.
But Beng Beng Beng won him new audiences in Africa, Europe and the US.
"It's hard for me to always sing a song like Beng Beng Beng because there are more pressing issues," Kuti added.
"It's very hard to sing about love when I have no money. In Nigeria, we have a lot of people who are suffering and there are so many rich people. I try to be on the other side."
Femi Kuti was interviewed as part of BBC World Service's series, Striking A Chord, which also features other artists such as K'Naan and Tracy Chapman.