Southern Sudan unveils plans for animal-shaped cities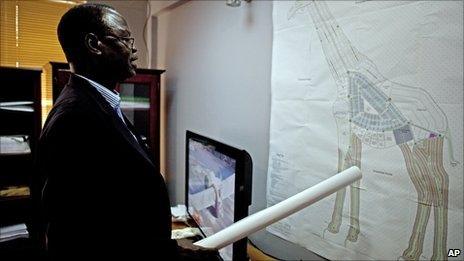 The authorities in southern Sudan have unveiled a $10bn (£6.4bn) plan to rebuild the region's cities in the shapes of animals and fruit.
Elaborate blueprints for the new cities have already been drawn up.
The regional capital, Juba, will be relocated and designed in the shape of a rhinoceros. Wau, the capital of Western Bahr el-Ghazal state, is to be a somewhat unwieldy giraffe.
Southern Sudanese are due to vote in a referendum on independence next year.
In Juba, the office of the regional president is situated where the rhinoceros's eye should be.
In Wau, the sewage treatment plant is appropriately placed under the giraffe's tail.
There is talk that the town of Yambio will be shaped like a pineapple.
The reason for these shapes is not entirely illogical - they match the symbols that appear on the flags of southern Sudan's states.
But how will the authorities raise the $10bn they say they need to make this plan a reality? They say they are talking to investors but it is all a bit vague.
Although there is plenty of oil in southern Sudan, people there are extremely poor.
The United Nations says more than 90% of the population lives on less than a dollar a day.
The plans for the new cities perhaps reflect the heady optimism of a potential new independent South Sudan, but whether they will ever get beyond the drawing board is another matter.
Related Internet Links
The BBC is not responsible for the content of external sites.