Swazi anger at prince's HIV exaggeration claim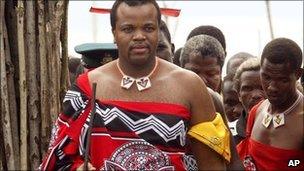 Aids activists in Swaziland have criticised a top adviser to King Mswati III for saying the country's HIV epidemic is being exaggerated for the benefit of pharmaceutical firms.
Prince Mangaliso said public awareness campaigns against HIV amounted to little more than scare tactics.
He added that male circumcision was no more a preventative measure than bathing after sexual intercourse.
Swaziland For Positive Living told the BBC the remarks were "irresponsible".
According to UNAids, Swaziland - Africa's last absolute monarchy - has one of the highest levels of HIV infections in the world, with a prevalence rate of 26% in the adult population.
"The prince he has just exhibited high standards of ignorance," Tengetile Hlophe, a co-ordinator of the charity Swaziland For Positive Living, told the BBC's Network Africa programme.
She said that statistics could not lie and that 42.6% of pregnant women in kingdom were infected with HIV.
"Male circumcision is scientifically proven to lessen the risk," she added.
Trials in Kenya, Uganda and South Africa have shown that the operation reduces by 60% the risk of a man contracting HIV - the virus that causes Aids.
Prince Mangaliso, who chairs the king's advisory council, made the remarks in an interview published in Swaziland's Times newspaper.
He told the paper he was "not scared of HIV".
Ms Hlophe said that his attitude was setting a bad example.
"I think he should apologise to the Swazi nation," she said.
Forty-two-year-old King Mswati, who has 13 wives, has also come in for criticism from aids campaigners for sending the wrong message to his subjects by promoting polygamy.
Related Internet Links
The BBC is not responsible for the content of external sites.