South Africa unions condemn strike injunction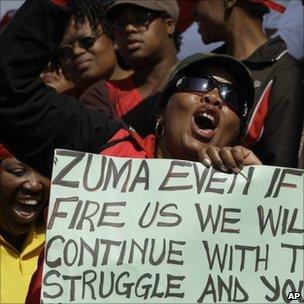 South Africa's trade unions have condemned a court injunction obtained by the government prohibiting public sector workers from continuing a national strike.
A spokesman for the Cosatu trade union federation told the BBC the move was designed to "intimidate" strikers.
On Saturday, the government sent military medical staff to 32 hospitals to keep services going.
More than one million workers have been on strike since Wednesday over pay.
The government was granted an injunction against the unions earlier on Saturday. It argued that the move was needed to keep hospitals open and prisons staffed.
The injunction also prevents nurses and teachers from intimidating colleagues who refuse to take part in the strike.
The BBC's Africa Editor Martin Plaut says the strike seems set to intensify, with two more teachers' unions set to join the protest and few signs that the strike will be easily resolved.
The unions - representing a million public sector workers - accuse the police of intimidating their members.
Schools are shut, hospitals barricaded and roads blocked.
The government has offered a 7% pay rise. Unions affiliated with Cosatu are demanding 8.6% pay rise.
The government says it cannot afford to deliver wage increases that amount to twice the rate of inflation.
Despite the injunction, the unions say they will not instruct their members to go back to work.
On Friday, Health Minister Aaron Motsoaledi said hospital workers who interrupted vital medical care and forced colleagues to join the strike are carrying out actions tantamount to murder.
President Jacob Zuma has defended the unions' right to strike but also urged for them to end violence and intimidation.
Related Internet Links
The BBC is not responsible for the content of external sites.