Rebel LRA attacks in south Sudan 'on the increase'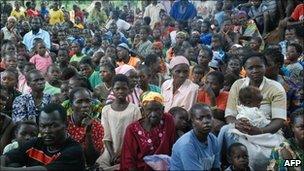 Attacks in Southern Sudan by rebels of the Lord's Resistance Army are on the increase, officials say.
Deputy governor of Western Equatoria told the BBC that not a week goes by without reports of the group, notorious for its brutality, attacking a village.
More than 25,000 people have been forced from their homes in south Sudan by the LRA since January, the UN says.
The rebels, initially from Uganda, are now mainly in Central African Republic and Democratic Republic of Congo.
The head of the Southern Sudan government's humanitarian agency for Western Equatoria, Lexson Wari Amozai, suggested that the rise in attacks was carefully timed.
He said that they never attacked during the planting season.
"When you are cultivating they will not attack you," he said.
"Once you have cultivated and the harvest is almost coming out, they will chase you out so that they'll get your food."
The BBC's Peter Martell in Nzara, on Western Equatoria's border with DR Congo, says hundreds of people have recently arrived in the village seeking food and medical help.
The villagers said their own vigilante force, known as the Arrow Boys, had failed to fight off the latest series of rebel attacks.
"The LRA came at around 8pm and they started burning the houses and our people," one of the vigilantes, who had gunshot wounds on his arm and back, told the BBC.
"Three of us Arrow Boys were killed, three wounded and we wounded one of them," he said.
Earlier this month, US-based Human Rights Watch accused the rebels of going on a massive recruitment campaign in DR Congo and CAR.
LRA leader Joseph Kony began his rebellion 20 years ago, claiming to want to install a Bible-based theocracy in Uganda.
He is wanted by the International Criminal Court (ICC), and now lives an itinerant life, crossing between Sudan and the CAR.
In 2008, he was about to sign a peace deal, negotiated by Southern Sudan, but at the last minute he refused to lay down his arms.
In May, the US passed legislation promising a comprehensive strategy to protect civilians from LRA attacks.
Related Internet Links
The BBC is not responsible for the content of external sites.