President Jakaya Kikwete collapse alarms Tanzanians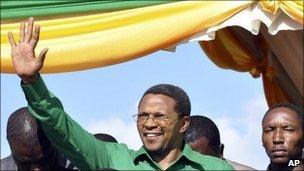 There are fears for the health of Tanzania's President Jakaya Kikwete after he collapsed at the official launch of his re-election campaign.
About 15 minutes into his speech, he slowed down, before slumping over the podium for several minutes.
The BBC's John Ngahyoma in Dar es Salaam says this is the third time the 59-year-old has collapsed in recent years.
Officials have tried to downplay the incident, saying he was only tired.
He has recently returned from a long trip to the US. Some officials have attributed his collapse to fasting during the Muslim holy month of Ramadan.
Tanzania's Citizen newspaper reports that his second rally passed off without incident on Monday.
But it says thousands of the president's supporters stared in disbelief as the president collapsed on Sunday.
It reports that some women wept, while the national broadcaster stopped its live coverage of the event.
The president's two main challengers have sent their best wishes, the Citizen reports.
The ruling Chama Cha Mapinduzi (CCM) party says the president's schedule will remain unchanged.
He is seeking a second, and final, five-year term at the 31 October election.
Related Internet Links
The BBC is not responsible for the content of external sites.