Spanish hostages freed by al-Qaeda in North Africa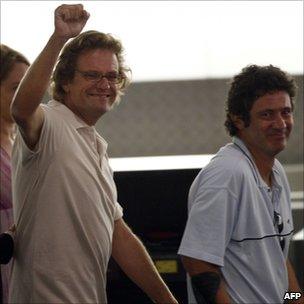 Two Spanish aid workers kidnapped nine months ago by al-Qaeda's North African offshoot have been released in Mali.
They stopped in Burkina Faso's capital of Ouagadougou, en route to Barcelona, where they arrived early on Tuesday.
Roque Pascual and Albert Vilalta were seized by militants from al-Qaeda in the Islamic Maghreb (AQIM) in Mauritania last November.
"This has been 268 days of suffering for them and their families," Spain's PM Jose Luis Rodriguez Zapatero said.
A female colleague seized with the men, Alicia Gamez, was set free in March.
Their kidnappers had reportedly demanded a $5m (£3.2m) ransom for Mr Pascual, 50, and Mr Vilalta, 35. It is unclear if any payment was made, and the Spanish government refused to comment on reports that it had paid a ransom.
The two men arrived in Barcelona in the early hours of Tuesday morning.
Mr Vilalta was walking with the help of a crutch, after sustaining bullet wounds in one leg when he tried to escape on the day of their capture.
Smiling and waving to friends and supporters, Mr Vilalta said: "Now we are free and I'm very happy and very moved."
Speaking of their kidnappers, he added: "They have treated us well - we have lived like they have, we've eaten like they have, we've slept like they have. But it was very hard in the middle of the desert, they are used to it, but we're not."
"For the rest of my life I will try to make up to you what I put you through," said Mr Pascual, as he waved a fist in the air.
Both men thanked the Spanish government for its diplomatic efforts to secure their release.
The release "puts an end to a terrorist action which should never have happened," Mr Zapatero told a news conference.
He said their families were travelling with the Secretary of State for Co-operation, Soraya Rodriguez, to meet them. The organisation for whom they worked, Barcelona-Accio Solidaria, said they were due back in Spain on Monday night.
The prime minister did not give details of the men's release, but it came just days after Omar Ould Sid Ahmed Ould Hama, a Malian militant who was sentenced in Mauritania for kidnapping the Spaniards, was extradited back to his home country - something that AQIM had reportedly demanded.
Al-Qaeda in the Islamic Maghreb emerged in early 2007, after an Algerian militant group, the Salafist Group for Preaching and Combat (GSPC), aligned itself with Osama Bin Laden's international terror network.
It has waged a campaign of suicide bomb attacks and ambushes in Algeria, and in recent years has become more active in the Sahara, where governments struggle to impose their authority and gangs of smugglers, bandits and rebels operate alongside the militants.
Last month, the group said it had killed Michel Germaneau, a 78-year-old French hostage being held in Mali, after a cross-border raid involving French and Mauritanian troops failed to free him.
AQIM also killed the British hostage, Edwin Dyer, last year after the UK government refused to give in to its demands.