Arrested brother of Rwanda ex-army chief 'alive'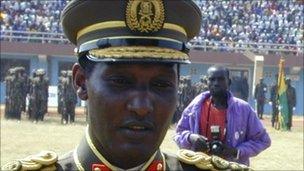 The brother of Rwanda's exiled ex-army chief is alive and well in military prison, the army says, dismissing reports he had disappeared
Lt-Col Rugigana Ngabo was arrested on Friday but his wife said she could find no record of him at any of the military prisons she visited over the weekend.
Rwandan army spokesman Jill Rutaremara said Col Ngabo was being held in Kanombe prison in Kigali.
He is accused of activities that threaten national security.
He is the brother of Lt-Gen Faustin Nyamwasa, who served as chief of staff to President Paul Kagame until 2001.
Gen Nyamwasa was wounded in South Africa in June in an apparent assassination attempt.
US-based Human Rights Watch says a number of senior Rwandan officers have been arrested in recent months, but the reasons behind the detentions are often unclear.
The arrests came ahead of August's election, in which Mr Kagame was overwhelmingly re-elected, amid opposition claims of harassment.
Related Internet Links
The BBC is not responsible for the content of external sites.