South Africa's President Zuma on China trade mission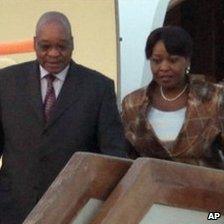 South African President Jacob Zuma has flown into China for a three-day visit aimed at strengthening business ties.
Mr Zuma is expected to sign a series of trade agreements with his country's largest trading partner.
His trip comes as he faces mounting problems at home, with more than a million public sector workers striking.
Mr Zuma is due to hold talks with Chinese President Hu Jintao during his mission to Beijing, the capital, and Shanghai.
A delegation of no fewer than 300 businessmen and ministers is accompanying Mr Zuma as he looks for tips from the Chinese on how to boost his country's growth rate.
Mr Zuma will also meet Prime Minister Wen Jiabao and tour the World Expo site in Shanghai.
Martyn Davies, chief executive of business consultants Frontier Advisory, said South Africa was trying to strengthen ties with other emerging countries.
"As the largest economy in the continent, South Africa is punching below its weight when in comes to global economic platforms like the G8," Mr Davies told AFP news agency.
"So there is a need to collaborate with other emerging economies, not collide with them."