Equatorial Guinea executions over coup plot condemned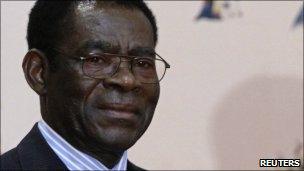 The execution of four men in Equatorial Guinea for involvement in an attack on the presidential palace last year has been condemned by a rights group.
Amnesty International says the men, former military and government officials, were put to death within an hour of being sentenced.
They were convicted by an army tribunal on Saturday, with no chance of appeal.
Amnesty says the men were living in exile in Benin at the time of the attempted presidential assassination.
President Teodoro Obiang Nguema, who has ruled the oil-rich nation since 1979 after toppling his uncle in a coup, has survived several coup attempts.
The most infamous was in 2004, involving former British mercenary Simon Mann, who was pardoned by Equatorial Guinea's leader last year.
According to the UK-based human rights group, Jose Abeso Nsue, Manuel Ndong Anseme, Alipio Ndong Asumu and Jacinto Micha Obiang were abducted from Benin by Equatorial Guinean security forces in January 2010.
"They were convicted of attacking the presidential palace when they had gone into exile much earlier and for other reasons, because they were being persecuted already, so their exile was not connected to the attack last year," Amnesty's Marise Castro told the BBC's Network Africa programme.
The authorities initially blamed the presidential palace attack in February 2009 on Nigerian militants.
Scores of Nigerians in Equatorial Guinea were then rounded up, imprisoned and expelled.
Four months ago, seven Nigerian fishermen and traders arrested at sea were sentenced to 12 years in prison for their involvement, Amnesty said.
"Equatorial Guinea must put an end to the abductions, torture and executions it currently carries out under the pretence of justice," Erwin van der Borght, Amnesty's Africa director, said in a statement.
Related Internet Links
The BBC is not responsible for the content of external sites.