Zimbabwe's MDC co-founder Gibson Sibanda dies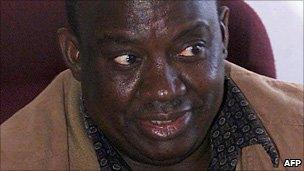 A co-founder of Zimbabwe's former opposition party, the Movement for Democratic Change, has died aged 66.
Gibson Sibanda was a prominent trade union leader before Zimbabwe's independence in 1980 and was arrested several times for his activities.
He helped form the MDC in 2000 but left five years later after differences with leader Morgan Tsvangirai.
Mr Sibanda joined a breakaway faction of the MDC and at the time of his death was a minister in the unity government.
A spokesman for his party said Mr Sibanda had been suffering from cancer for some time and died in Bulawayo.
Mr Sibanda and Mr Tsvangirai were both trade union leaders when they decided to set up the MDC to counter what they said were President Robert Mugabe's disastrous economic policies.
Mr Tsvangirai is now prime minister in the power-sharing government which was formed 18 months ago. It is trying to stabilise the economy hit by rampant inflation and shortages of food and fuel.
Related Internet Links
The BBC is not responsible for the content of external sites.