UN appoints Jack Lang as new Somalia piracy adviser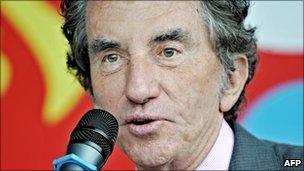 The former French minister Jack Lang is to become the United Nations' special adviser on piracy, it has emerged.
Mr Lang, 70, a former professor of international law, will advise on ways of prosecuting pirates captured off Somalia.
He has previously served as France's culture minister, education minister and special envoy on North Korea.
His appointment was revealed by Susan Rice, US ambassador to the UN, who said Washington welcomed the news.
UN Secretary General Ban Ki-moon had earlier told the Security Council he intended to appoint a piracy adviser, but did not say who it would be.
Mr Ban said the new adviser would attempt to plug some of the weak links in piracy law, by exploring a new mechanism for prosecuting captured pirates, establishing which state might host it and how those convicted could be imprisoned.
Captured pirates are currently being handed over to Kenya and the Seychelles for prosecution. But there are concerns that the Kenyan legal system in particular is overburdened.
In May, Russia complained after it was obliged to release pirates its forces had captured in the Gulf of Aden during an operation to rescue a hijacked Russian oil tanker.