Nigeria to privatise power firm PHCN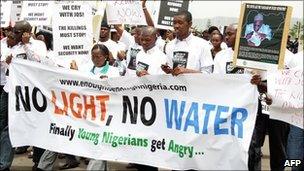 Nigeria is to sell off the state power monopoly, PHCN, President Goodluck Jonathan has announced.
"We need a revolution in the power sector," he said, in what was touted as a major policy speech.
Nigeria is one of the world's largest oil exporters but lacks many basic services, such as a regular electricity supply.
Black-outs are common and those who can afford to, use generators.
Many business leaders say the lack of electricity is one of the biggest obstacles they face.
Meanwhile, many Nigerians joke that PHCN (Power Holding Company of Nigeria) really stands for Please Hold Candle Now.
Two years ago, a report said Nigeria would need $85bn (£42.7bn) of investment in its power infrastructure in order to produce electricity 24 hours a day for all of the country's 140 million people.
Mr Jonathan said Nigeria would rely on private companies to build new power plants fuelled by the country's vast gas reserves, the AP news agency reports.
Correspondents say the announcement sounded like an election campaign pledge.
Several previous leaders of Africa's most populous nation have failed to keep promises to improve Nigeria's electricity supply.
In his first speech after becoming president in 2007, Mr Jonathan's predecessor Umaru Yar'adua threatened to declare a state of emergency in the power sector if PHCN managers did not improve the electricity supply.
Polls are due early in 2011 but Mr Jonathan has not said whether he intends to contest them.
Related Internet Links
The BBC is not responsible for the content of external sites.