Maputo riots: Shots heard in Mozambique capital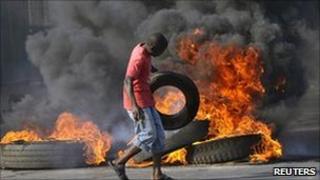 Sporadic gunfire has been heard in the Mozambique capital, Maputo, as riots over rising prices continue.
Seven people have died in two days of clashes, officials say.
Youths have again blocked roads with burning tyres. Troops have been deployed to help clear up the debris but the police say the army is not helping restore order.
The government has, however, stressed that the price hikes are "irreversible".
Mozambique is one of the poorest countries in the world and the price of bread has risen by about 30% in the past year.
Government spokesman Alberto Nkutumula said the seventh person died on Thursday, but did not specify whether the latest death was due to fresh violence, or as a results of injuries sustained on Wednesday.
He said 288 people had been wounded, 23 businesses damaged and looted, and 12 buses and two train carriages vandalised.
State TV reports that two of those killed were children caught in crossfire on their way home from school.
One of those killed was a 12-year-old boy who was shot in the head, according to AFP. Witnesses said he had been walking towards one of the protests when police opened fire.
But police spokesman Pedro Cossa has denied that live rounds were used against the protesters, only rubber bullets.
The government has appealed for the protests to stop.
The demonstrators chanted slogans against President Armando Guebuza, whose Frelimo party has been in power since independence in 1975.
The violence has been the worst in the impoverished African state since 2008 when clashes between police and rioters over rising prices left at least four people dead and more than 100 injured.
The riots then forced the government to cancel plans to increase fuel prices.