Nigeria arrests ex-NFF officials over World Cup money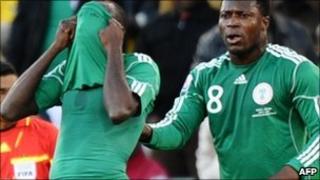 Four Nigerian former football officials have been arrested amid accusations that some $8m (£5m) went missing during the World Cup finals in South Africa.
The four, who include former football federation head Sani Lulu Abdullahi, are due to appear in court in the capital Abuja shortly, an anti-corruption official told the BBC.
The four were sacked over Nigeria's poor performance at the finals.
They have not yet commented on the accusations.
Their passports were seized in July.
After the Super Eagles' failure to qualify from the group stages of the World Cup finals, President Goodluck Jonathan banned them from international competition for two years, before relenting under pressure from the sport's world governing body, Fifa.
Economic and Financial Crimes Commission (EFCC) spokesman Femi Babafemi told the BBC that the four - Mr Lulu, Bolaji Ojo-Oba, Taiwo Ogunjobi and Amanze Uchegbulam - would face a number of charges.
These include making payments to unauthorised delegates, chartering an allegedly faulty aircraft and paying $400,000 to stage a friendly match against Colombia in London, shortly before the finals.
The four have already been interrogated on these matters.
"This is a serious case of national interest hence all four men have been detained and will be in court on Tuesday," he said.
Meanwhile, a judge has ordered that elections for a new Nigeria Football Federation (NFF) leadership be annulled.