DR Congo bans mining in eastern provinces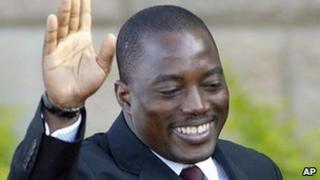 Mining in three provinces of eastern Democratic Republic of Congo has been banned by President Joseph Kabila.
He ordered the indefinite suspension during a visit to the mining hub town of Walikale; the mining industry later confirmed it was with immediate effect.
The president said he wanted to weed out what he called a "kind of mafia" involved in the mining industry.
Control over mining minerals like coltan and cassiterite has fuelled conflict between rebel groups.
The minerals are used in mobile phones and computers.
The ban covers the provinces of North Kivu, South Kivu and Maniema, although it was not clear how it would be enforced.
In a statement on Saturday, the mining ministry said much of the mining in the area was "linked to mafia-like groups that reinforce chronic insecurity, counter to efforts at stabilisation".
There has been a prolonged conflict there, last month at least 150 women were reportedly raped by militia members near the town of Walikale.
The conflict is also fuelled by ethnic hatred, a hang-over from the 1994 slaughter of Tutsis in neighbouring Rwanda and Congo's subsequent civil wars.
The Mining Minister of North Kivu, D'Assise Masika, said Mr Kabila wanted to create better living conditions for local people and clear up the industry, the AFP news agency reports.
The BBC's Thomas Hubert in eastern DR Congo says the ban may be difficult to enforce.
UN peacekeepers recently said they had control of the airstrip in Walikale, which is the easiest way out, but people might find other routes to export minerals.