Scientists urge rethink of Serengeti road plans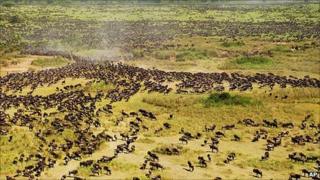 A group of scientists has appealed against a road planned in Tanzania's Serengeti National Park, saying it would cause an environmental disaster.
Writing in the journal Nature, the 27 scientists said the road would curtail wildebeest migration, with knock-on effects on the area's ecosystem.
The migration of the wildebeest was the "largest remaining migratory system on Earth", they said.
The scientists proposed an alternative road running to the south of the park.
Pressure to start building the 50km (31-mile) stretch of road through the north of the Serengeti has increased ahead of elections in Tanzania next month, said the appeal, which was published in Thursday's edition of Nature.
It attributed this in part to growing economic interest in central African mineral wealth.
The road would be part of a long-planned link between Tanzania's coast and Lake Victoria, Uganda, Rwanda, Burundi and the Democratic Republic of Congo.
The scientists said that according to a simulation, the road would cause the wildebeest population to fall from 1.3 million to fewer than 300,000.
"The proposed road could lead to the collapse of the largest remaining migratory system on Earth - a system that drives Tanzania's tourism trade and supports thousands of people," the appeal said.
"Such a collapse would be exceedingly regrettable for a country that has consistently been a world leader in conservation."
The Serengeti National Park is listed as a World Heritage Site by Unesco.