Corruption fighter Ribadu to seek Nigeria presidency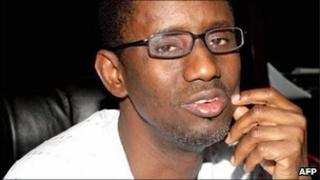 Nigeria's former corruption fighter Nuhu Ribadu has said he will seek to stand in January's presidential poll on behalf of the main opposition party.
Mr Ribadu says he wants to stand on behalf of the Action Congress of Nigeria (ACN).
He came to prominence as head of the country's anti-corruption agency before being sidelined in 2007.
Several prominent Nigerians have recently announced they will stand. However, the poll may be postponed.
On Sunday, election officials said they were looking at ways to delay the poll so they could work on a credible voters' roll.
The BBC's Caroline Duffield in Lagos says Mr Ribadu's entrance into Nigeria's presidential race will be met with excitement.
While many Nigerians will celebrate, some will be very worried, she says.
Our reporter says many people see Mr Ribadu as a folk-hero, who infuriated powerful politicians.
However his enemies say his investigations were politically motivated.
Mr Ribadu returned from exile in June, after saying he had fled because attempts had been made on his life.
Our reporter says that in the past, senior ACN figures have faced accusations of corruption, so it will be very difficult for Mr Ribadu to allow the party to bankroll his campaign.
Nigeria's previous elections have been marred by widespread violence and allegations of fraud.
The election had been set for January, partly to allow legal challenges to be completed before the inauguration in May.
Election officials say that even if the election date is changed, the swearing-in will still take place in May.
Mr Jonathan has promised to introduce electoral reforms, but correspondents say it will be difficult to implement radical changes before January.
Keenly contested race
Several heavyweight figures are vying for the presidential nomination for the governing People's Democratic Party (PDP).
Kwara state governor Abubakar Bukola Saraki has become the latest candidate in the PDP race.
He joins President Goodluck Jonathan, former presidential security advisor Aliyu Gusau, former military leader Gen Ibrahim Babangida and ex-Vice-President Atiku Abubakar.
The PDP has won all of Nigeria's elections since military rule ended in 1999 and its candidate will be seen as the favourite for next year's poll.
However, it could face splits along north-south lines.
All candidates, except Mr Jonathan, are northern Muslims.
The PDP has a tradition of alternating power between the north and the mainly Christian and animist south for two terms each.
Under this unwritten rule, the party's candidate in 2011 should be a northerner.
Kano state governor Mallam Ibrahim Shekarau has said he wishes to stand for the opposition All Nigeria People's Party (ANPP).
Former military ruler Muhammadu Buhari is seeking to become the presidential candidate for the opposition Congress for Progressive Change (CPC).