Zimbabwe PM Tsvangirai anger over violence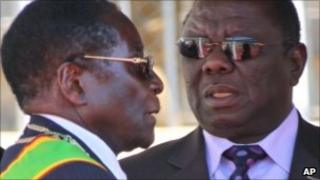 Zimbabwe's prime minister has warned he may boycott elections due next year if campaigning turns violent.
Morgan Tsvangirai made the comments after at least five people were injured when stones were thrown at political gatherings in the capital on Sunday.
The meetings were to discuss the planned reform of the constitution.
Mr Tsvangirai, who joined a unity government last year, said the attackers had been hired to prevent people from expressing their opinions.
He need not say which group he blamed for the violence.
His Movement for Democratic Change party agreed to share power with President Robert Mugabe's Zanu-PF after elections in 2008 which were marred by violent attacks on MDC supporters.
Under their coalition deal, the longtime rivals agreed to draw up a new constitution followed by a referendum and then fresh elections.
Public gatherings have been held countrywide about the constitution, which will replace the document drawn up when Zimbabwe gained independence from the UK in 1980.
Arrests
"This needless violence is both a reminder of the dark past and a threat to a bright future," said Mr Tsvangirai, who boycotted the presidential run-off in June 2008 after beating Mr Mugabe in the first round two months earlier.
"Some among us have the misguided audacity to undermine our efforts by hiring thugs to disrupt people's right to express themselves in an important national exercise.
"I will not commit to any election if it is a declaration of war."
Meanwhile, 83 women demonstrators were arrested on Monday for staging a protest without police clearance in the capital, Harare.
Two activist groups - Women of Zimbabwe Arise and Men of Zimbabwe Arise - said 600 of their members marched towards parliament demanding better policing and public safety.
"This incident is a worrying example of what can happen when Zimbabweans try to make their voices heard during the current constitution making process," Michelle Kagari, deputy director of Amnesty International's Africa Programme, said in a statement.