French crewmen kidnapped from ship off Nigerian coast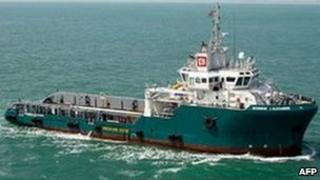 Three French crewmen have been kidnapped in an attack on a ship in an oilfield off the Nigerian coast.
The marine services company Bourbon says pirates in several speedboats attacked one of its vessels on Tuesday night.
Thirteen other crew members were left on board and no injuries were reported.
No-one has claimed responsibility but kidnappings and attacks are frequent in the Niger Delta, the heart of Africa's biggest oil and gas industry.
It is also the second case in less than a week of French citizens being abducted in the region. On 16 September, five French nationals were among a group kidnapped by al-Qaeda militants from a uranium mine in neighbouring Niger.
It is not clear exactly where this latest attack took place. Bourbon has said the crew were working in an oilfield owned by Addax Petroleum, a subsidiary of the Chinese Sinopec group.
Addax's main offshore wells lie about 60km (38 miles) south of the city of Calabar on the eastern edge of the Niger Delta.
Bourbon says the workers' families have been contacted and attempts to secure their release are under way.
A French Foreign Ministry spokesman, Romain Nadal, told the BBC: "We are fully mobilised to obtain their liberation as soon as we can in Paris and in Abuja with our embassy and with the Nigerian authorities."