Ribadu warns Nigeria elite on corruption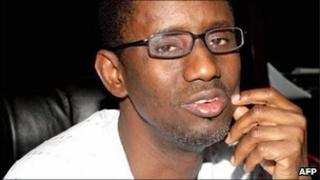 Nigeria's former corruption fighter Nuhu Ribadu has said no-one will be safe from prosecution if he is elected president next year.
The BBC's Caroline Duffield in Lagos says senior members of his opposition Action Congress of Nigeria (ACN) have been accused of corruption.
But Mr Ribadu told the BBC that his campaign will not be tainted by dirty money.
The elections have been set for January but may be postponed.
Election officials, who have asked for a delay, however insist that the new president will be inaugurated in May, as planned.
Mr Ribadu came to prominence as head of Nigeria's anti-corruption agency before being sidelined in 2007.
He returned from exile in June, after saying he had fled because attempts had been made on his life.
But our reporter says both his admirers and detractors are becoming quietly agitated over his choice of party, with some saying he might find himself spending questionable funds, or that his patrons might one day expect his protection from prosecution.
But Mr Ribadu said this would not happen.
"Whoever has anything to answer, he will certainly never get protection from Nuhu Ribadu," he told the BBC.
"I have never done it in all my life," he says.
As the head of Nigeria's Economic and Financial Crimes Commission, he prosecuted several high-profile politicians.
His critics, however, accused him of only going after rivals to then President Olusegun Obasanjo - accusations he always denied.
Mr Ribadu also said he remains convinced that Nigeria's elections can be free and fair, despite the widespread violence and allegations of fraud which have characterised previous polls.
"Don't ever believe it cannot be done. Your vote will count."
A new electoral register and electronic voting machines are being introduced.
Observers say the difficulties facing reformers are severe, and are uncertain whether a grace period of a few months will deliver free and fair polls.
Keenly contested race
Several heavyweight figures are vying for the presidential nomination for the governing People's Democratic Party (PDP).
President Goodluck Jonathan faces challenges from former presidential security advisor Aliyu Gusau, former military leader Gen Ibrahim Babangida and ex-Vice-President Atiku Abubakar and Kwara state governor Abubakar Bukola Saraki.
The PDP has won all of Nigeria's elections since military rule ended in 1999 and its candidate will be seen as the favourite for next year's poll.
However, it could face splits along north-south lines.
All candidates, except Mr Jonathan, are northern Muslims.
The PDP has a tradition of alternating power between the north and the mainly Christian and animist south for two terms each.
Under this unwritten rule, the party's candidate in 2011 should be a northerner.
Kano state governor Mallam Ibrahim Shekarau has said he wishes to stand for the opposition All Nigeria People's Party (ANPP).
Former military ruler Muhammadu Buhari is seeking to become the presidential candidate for the opposition Congress for Progressive Change (CPC).