Kenya defends arrests over Uganda World Cup bombing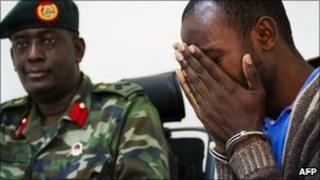 Kenyan authorities have defended the rendition of suspects to Uganda for trial over July's bombings, by leaking documents alleging their terror links.
In recent weeks dozens of Kenyans have been extradited over the suicide attack, which killed some 76 people.
Kenyan Muslim groups have criticised the arrests, with one newspaper article saying they were indiscriminate and unlawful.
Somali Islamist group al-Shabab has said it carried out the attack.
The twin bombings targeted a restaurant and rugby club in Kampala while people watched the World Cup final on 11 July.
Ten of the 36 Kenyan suspects in total have been charged in connection with the attack.
The documents, published by Kenyan media, describe an al-Qaeda cell in East Africa and provide details of how the Kampala attack was planned.
They say that "tens of youths" from across Kenya have joined the cell, trained in Somalia and fought alongside al-Shabab.
The details also suggest that plans for twin attacks on Nairobi have begun.
'Security force hooligans'
BBC East Africa correspondent Will Ross says the timing of the leak is interesting, coming at a time of some disquiet, especially amongst the Muslim community.
In one front-page article in Kenya titled "Return Renditioned Kenyans", the head of the council of Kenya Muslims is quoted as saying "Muslims are not safe from the impunity and hooliganism of the Kenyan security forces".
In Nairobi, one man told the BBC he believes Kenya has not followed due process.
"You don't just arrest anyone on the streets, put him on a plane or whatever without I believe enough or sufficient investigations. I think sufficient investigations should be carried out first," he said.
Some human rights workers have expressed fears for the safety of the suspects, amid reports that the suspects were secretly taken to Uganda and had no legal representation.
Earlier this month, Human Rights Watch said two Kenyans were being held by the Ugandan Police Rapid Response Unit, which the group said has previously been responsible for torturing and killing suspects.