Tunisia trains collide in storm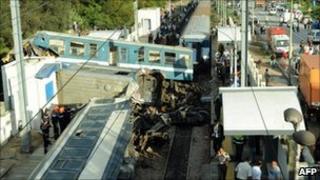 Two trains have collided during a heavy rain storm in Tunisia, killing one person and injuring 57, officials say.
The accident happened at Bir El Bay, about 30km (19 miles) south of the capital, Tunis.
Officials said a local commuter train derailed after crashing into a intercity train that had stopped at Bir El Bay station.
A violent rain storm meant there was a "total lack" of visibility at the time, Tunisian state media said.
Most of the injured were released from hospital, but 10 remained for further treatment, according to a government statement carried by Tunisia's TAP news agency.