South Sudanese to be armed against LRA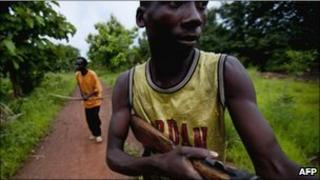 Self-defence groups in south Sudan are to be given guns to help fight off increasing attacks by Lord's Resistance Army rebels.
Some $2m (£1.3m) will be spent arming the Arrow Boys vigilantes, Western Equatoria state governor Joseph Bakasoro told the BBC.
At present, they usually just use knives and traditional weapons.
LRA attacks have forced some 25,000 Sudanese from their homes this year, the UN says.
The rebel group, initially from Uganda, now operates in Central African Republic and Democratic Republic of Congo, as well as Sudan.
"The home guard units will be trained and armed so that they can provide effective defence until the regular forces can intervene," said Mr Bakasoro.
There are fears that violence could increase in Southern Sudan, ahead of January's referendum on the region's independence.
Some southerners accuse northern politicians opposed to the south's independence of arming the LRA but this has been denied in Khartoum.
US-based Human Rights Watch last month accused the rebels of going on a massive recruitment campaign in DR Congo and CAR.
LRA leader Joseph Kony began his rebellion 20 years ago, claiming to want to install a Bible-based theocracy in Uganda.
He is wanted by the International Criminal Court (ICC), and now lives an itinerant life, crossing between Sudan and the CAR.
In 2008, he was about to sign a peace deal, negotiated by Southern Sudan, but at the last minute he refused to lay down his arms.
In May, the US passed legislation requiring Washington to come up with a strategy to work with regional governments to protect civilians from LRA attacks.