Nigeria MPs back election delay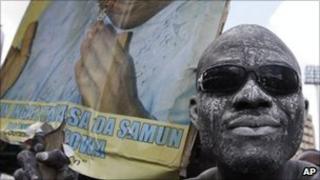 A group of Nigerian MPs agrees that next year's polls should be postponed until April, to give the election commission more time to prepare.
Senate deputy president Ike Ekweremadu said the MPs were satisfied that the delay was needed after meeting the election commission head.
Officials want to introduce reforms after previous polls were marred by fraud and violence.
Correspondents say it is now almost certain that the poll will be delayed.
Mr Ekweremadu said MPs were ready to change the constitution so the election can be put back.
It has already been amended once this year - to bring the polls forward to January.
The head of Nigeria's Independent National Electoral Commission (Inec) Attahiru Jega and Justice Minister Mohammed Adoke met a committee of MPs on Monday to persuade them that a delay was necessary.
Afterwards, Mr Ekweremadu said election officials would on Wednesday give further details of how they would use the extra time to "guarantee a free and fair election".
Inec officials have stressed that the new president would still be inaugurated in May 2011, as planned.
Several heavyweight politicians, including President Goodluck Jonathan, have said they want to stand in the polls and are busy lobbying to win their parties' nominations.
A new electoral register and electronic voting machines are being introduced.
Observers say the difficulties facing reformers are severe, and are uncertain whether a grace period of a few months will be enough to deliver free and fair polls.