UN lifts last sanctions against Sierra Leone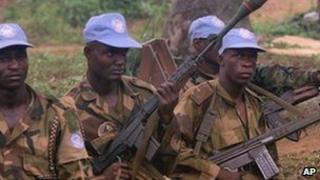 The UN Security Council has lifted the last remaining sanctions against Sierra Leone, eight years after the end of a bloody civil war.
The council said the government had fully re-established control over its territory, and former rebel fighters had been disarmed and demobilised.
The last remaining sanctions - an arms embargo and a travel ban for rebels - had been in place since 1997.
The mandate for UN operations has been extended for another year.
The council said Sierra Leone still needed the support of the UN to buttress peace-building efforts.
It also called for more efforts to combat corruption and to guarantee free and fair elections in 2012.
Tens of thousands of people died and many more were mutilated by militias in Sierra Leone's brutal civil war, which ended in 2002.