Sudan moves to shore up currency over secession fears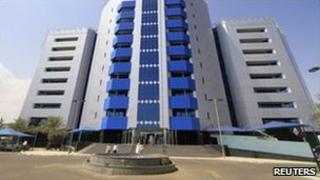 Sudan's central bank is to inject foreign currency into the market in a bid to shore up the Sudanese pound.
A recent rush on the dollar is thought to stem from fears about whether southerners will vote to secede in a referendum in January.
Most of Sudan's vital oil reserves are in the south, and there are fears that if it becomes independent the north's economy will be badly hit.
But the bank's governor has insisted the fears are overblown.
The referendum on independence was part of a peace deal that ended a long civil war, but there are fears it could spark renewed conflict.
Scant reserves
The injection of hard currency will take place on Sunday, the central bank says.
It will try to bolster the strength of the Sudanese pound, currently trading officially at 2.4 to the US dollar but 3.1 on the black market.
In an interview with the BBC, the governor of the central bank Sabir Mohamed al-Hassan insisted that the north would be able to weather the impact of southern secession.
He said it was bouncing back from the impact of the international financial crisis, and was prepared to weather the impact of southern secession.
"The fundamentals of the economy are really improving and not deteriorating," he said.
But there is no guarantee the currency injection will work, says the BBC's James Copnall in Khartoum.
For a start, the bank simply doesn't have large foreign currency reserves, in part due to US sanctions - earlier this month Sudan announced it would cut imports by 20% to try to deal with this problem.
A Sudanese businessman, who did not wanted to be named, said the move was likely to have little impact, but did reveal legitimate fears.
The fundamental problem for the central bank - and for the north as a whole - is that if the south does secede, the blow to the economy is likely to be serious - whatever the bankers try to claim, our correspondent adds.