Henry Okah charged in South Africa over Nigeria bombs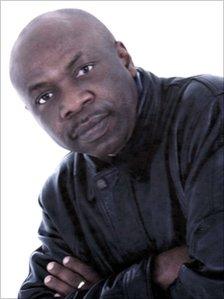 Oil militant Henry Okah has been charged in South Africa in connection with Friday's bomb attack in Nigeria's capital, Abuja.
Mr Okah, who was arrested in Johannesburg on Saturday, has denied links to the blasts.
At least 12 people were killed in the car bombings which came as Nigeria marked 50 years of independence.
Mr Okah is believed to lead a militant faction opposed to a government amnesty for the oil-producing Niger Delta.
He told the BBC on Friday that his group was not responsible for the car bombings.
He was charged with engaging in terrorist activity and delivering or detonating explosives.
Prosecutors described him as the mastermind of the Abuja bombings.
On Sunday, Nigerian police named two Nigerian men - Chima Orlu and Ben Jessy - as suspects in the case but gave no further details about them.
Mr Okah, 45, was not asked to plead and said nothing in court except to greet his lawyers.
His defence says he is innocent and say they will file an urgent appeal for him to be released on grounds of unlawful arrest.
He has been remanded in police custody until his next appearance on 14 October.
The prosecution and defence are discussing whether he should be held at a more secure prison while he awaits his next appearance - the talks are ongoing.
The BBC's Caroline Duffield in Lagos says Mr Okah has barely been heard of outside Nigeria, but within the country, he is notorious.
He has lived in South Africa since 2003 and returned there last year when he was released from almost two years in detention.
He was arrested on gun-running charges in Angola in 2007 and then transferred to Nigeria but never convicted.
He was released under an amnesty but has since denounced it.
His group is believed to have split from the main Movement for the Emancipation of the Niger Delta (Mend) which signed an agreement with the government last year to end years of unrest in the oil-producing Niger Delta region.
Former fighters were offered an amnesty and small amounts of cash in return for handing in their weapons.
Mend says it is fighting so that more of Nigeria's massive oil wealth is used to benefit the Niger Delta area which produces the oil.
But criminal gangs have taken advantage of the region's instability to make money from ransoms paid by oil companies, and stealing oil.
Before the amnesty, attacks on foreign oil workers and installations had cut Nigeria's oil output by up to 20%.
Nigeria is one of Africa's biggest oil producers but most of its population lives on less than $1 (63p) a day.
Related Internet Links
The BBC is not responsible for the content of external sites.