Nigeria secret service 'foiled earlier Abuja bomb plot'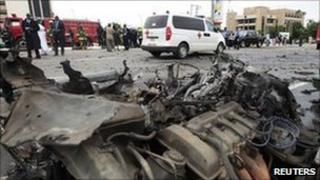 Nigeria's intelligence agency says it foiled plans to attack Abuja's administrative centre just days before last week's deadly car bombings.
The State Security Service (SSS) said there were plans to detonate at least six car bombs on 29 September.
At least 12 people were killed in Friday's attacks in Abuja, as Nigeria marked 50 years of independence.
Police have questioned a top aide to one of President Goodluck Jonathan's main election rivals over the bombings.
People in Abuja were stunned over the detention of Raymond Dokpesi, says the BBC's Nigeria correspondent Caroline Duffield.
He owns the Africa Independent Television network and recently became the chief of staff to the former military leader, General Ibrahim Babangida.
Gen Babangida is running against Mr Jonathan for the candidacy of the ruling People's Democratic Party (PDP) in next year's presidential election.
Sources in the presidency say text messages found on the mobile phone of a suspect in the Abuja bombings link Mr Dokpesi to Henry Okah, the main suspect in the attack.
He was charged on Monday in South Africa over the bombings. Prosecutors described him as the mastermind of the Abuja bombings.
Mr Okah, who now lives in South Africa, is believed to lead a militant faction opposed to a government amnesty for the oil-producing Niger Delta.
He told the BBC on Friday that his group was not responsible for the car bombings but he was not asked to plead in court in South Africa.
'Three Arms Zone'
The SSS has arrested nine people in connection with the attack, and all allegedly have links to Mr Okah, SSS spokeswoman Marilyn Ogar told a news conference on Monday.
"The despicable act of terrorism which eventually took place on 1 October was planned for Wednesday 29 September but was foiled as soon as information was received during the early hours of 28 September," she said.
She said the agency had intelligence "that the Three Arms Zone was to be bombed and six vehicles had already been prepared for the purpose".
The Three Arms Zone in central Abuja houses the presidential palace, parliament, the Supreme Court and also the SSS headquarters.
The spokeswoman added that the main aim of the plotters was "to scare foreign visitors from attending the 50th anniversary celebrations".
Amnesty
Mr Okah's group is believed to have split from the main Movement for the Emancipation of the Niger Delta (Mend), which signed an agreement with the government last year to end years of unrest in the Niger Delta.
An e-mail purportedly sent by Mend said it had carried out the attack.
Former fighters were offered an amnesty and small amounts of cash in return for handing in their weapons.
Mend says it is fighting so that more of Nigeria's massive oil wealth is used to benefit the Niger Delta area which produces the oil.