Russia pursues new Algeria deals with Medvedev visit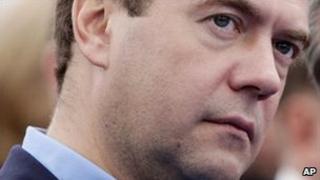 Russian President Dmitry Medvedev has arrived on a one-day visit to Algeria where new telecoms and gas deals are expected to be discussed.
Analysts say he faces a battle to persuade Algeria to approve the sale of its biggest mobile phone operator and gas assets to Russian firms.
The phone deal would position Russia's Vimpelcom to become the world's fifth largest mobile phone operator.
Ties between Russia and Algeria faltered over a 2007 arms delivery.
Algeria rejected MiG-29 fighter jets supplied by Russia, its main supplier of military equipment for more than 50 years, saying the quality of their components was inferior.
But Russian commentators suggested Algeria had opted instead for Rafale fighters from France.
It is believed to have been the first time in the history of Russian military sales that a foreign customer had returned a hardware purchase.
'Common ground'
Vimpelcom agreed earlier to merge its assets with Weather Investments, headed by Egyptian telecoms tycoon Naguib Sawiris, in order to create the world's fifth largest mobile operator with 174 million customers.
The jewel in the crown of that deal is Algerian mobile phone company Djezzy, which the Algerian government has been seeking to nationalise after a dispute over tax bills.
"The presence of Medvedev is not exactly a coincidence," Elena Mills, a senior analyst at Alfa Bank in Moscow, told Reuters news agency.
"Now a deal has been announced he can raise the issue of Djezzy. That Russia and Algeria both have oil and gas assets is helpful - a common ground could be found."
Vimpelcom chief executive Alexander Izosimov was due to accompany President Medvedev to Algiers.
Algeria says it is considering a BP request to approve the sale of its Algerian assets to BP's Russian joint venture, TNK-BP.
Russia also wants its state-controlled gas giant Gazprom to work more closely with Algeria's Sonatrach.
Gazprom head Alexei Miller was also due to accompany Mr Medvedev to Algeria.
"The large gas reserves in Algeria underscore the importance of co-operation between Gazprom and Sonatrach," Mr Medvedev's top foreign policy aide, Sergei Prikhodko, told reporters in Moscow.
New arms deals may also be discussed during the Russian visit.