Gambia introduces death penalty for drug possession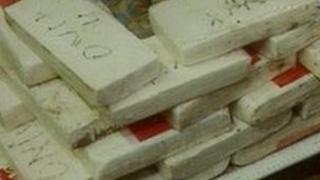 The Gambia has introduced harsher penalties against drug crime, including execution for anyone found holding more than 250g of cocaine or heroin.
Attorney General Edward Anthony Gomez said the move was aimed at curbing drug trafficking.
The country has recently become a key transit point from Latin America.
At least two tonnes of cocaine with a street value estimated at $1bn (about £675m) were seized in the West African nation in June, bound for Europe.
"The devastating impact of these activities on the stability and development of any state cannot be overemphasised," Mr Gomez told parliament, AFP news agency reports.
According to Reuters news agency, the previous penalty for the equivalent drug possession was a jail sentence of between 30 and 40 years.
Twelve foreigners are standing trial in The Gambia in connection with June's cocaine seizure.
The West African coast has emerged as a popular transit point for drugs, with cartels taking advantage of the region's poverty and weak judicial systems.