Your memories of meeting Archbishop Desmond Tutu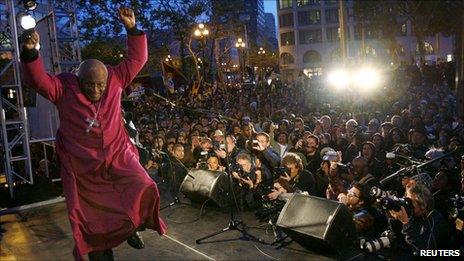 BBC News website readers have been sharing their memories of meeting Archbishop Desmond Tutu, as he steps down from public life on his 79th birthday.
The man described as the "conscience" of South Africa was a prominent voice during the country's struggle against white minority rule and has since been the voice of reconciliation in a number of regional conflicts.
But the Nobel Peace prize winner says he wants to spend more time with his family and watching cricket.
Max Katta, Freetown, Sierra Leone
I met Archbishop Desmond Tutu in Cape Town in November last year.
A friend told me that he was in town and was conducting a mass in his church the following morning at 0600. For the first time in a very long time, I woke up at 0500 and was at the church before 0600.
There I saw him and realised he was really human.
And to me, his personality even transcended what I had heard about him.
But the best thing that ever happened to me in this world was when he shook my hands and said, "God Bless You My Son".
And then a friend took a photo of this occasion. Can you imagine that? In Cape Town, I went up Table Mountain, to Long Street, Cape Point, Canal Walk, to the townships and lots more interesting palces, but the photo with the Archbishop is the only one I ever uploaded on Facebook - need I say more?
Ann Thomas nee Steinhobel, Plettenberg Bay, South Africa
I was a member of St Mary's Cathedral in Johannesburg when Desmond Tutu became the new Dean.
He was still in England when it was announced that he was to be Dean. He requested that we send photographs of ourselves so that he could start to pray for us before he arrived and also that he would recognise and know us by name when he did take on the new job of Dean.
And here's another story. As I was a white nurse living in residence, I was unable to invite him in for a meal. So, I decided to invite him and Leah for a picnic supper at the foutains that were in a park, South of Johannesburg.
I packed and prepared for the three of us. My funds were limited so it was not a great feast. Imagine my consternation when he brought a crowd of about five extra people. There was not enough food and I must confess the miracle of the loaves and fishes did not repeat itself.
My exposure to black people had been very limited up to that time. I think that one of the great things he did while he was Dean was to bring my attention to the great inequalities that existed, and especially how very ignorant of them I was.
David Birdwood-Hedger, Limassol, Cyprus
I had the pleasure of meeting him in St Martin-in-the-Fields in London when he was the preacher and celebrant.
The day before he had celebrated his 51st (I think) anniversary with his wife, of which he was immensely proud. He told the congregation that his wife had sent him an anniversary card for a pretty unique couple.
He said she was pretty and he was unique. How true!
I spoke afterwards with him briefly and that lovely exuberant character was so much in evidence. He greeted all warmly and the light of Christ shines from him.
South Africa and the world will be a sadder place with him withdrawing from the public eye. However his retirement, if that is the right word for an Archbishop, is richly deserved.
Lara, Cape Town, South Africa
As an international relations undergraduate I was researching the role of forgiveness in politics and as I happened to be in Cape Town at the time I thought I may as well get in touch with an authority on the subject.
I was invited to a small, early morning church service where Archbishop Tutu knew the name of every person there. He even remembered one congregation member's birthday and sang happy birthday to them.
I heard him utter his famous "Yippee!" as he read a Gospel passage.
He was in the mood for fun - not an interview - so he invited me to breakfast where instead we talked about his big nose and how his friend was a Jewish plastic surgeon who wanted to have a go at it, about how he was in trouble with his nutritionist, how he supports Arsenal and how he feels about Jose Mourinho (some choice words that I never thought to hear from a man of peace and love).
He did however offer me his e-mail address to send my research questions to and believe me, he is a quick respondent! I sent him many e-mails over the course of my dissertation and always, despite how busy he was, within a couple of hours he had sent back thoughtful and helpful answers.
Everyone knows what a great man he is, how inspirational he is, about all the great work he has done over the years. We are used to seeing him conversing with world leaders but what many people may not know is that he will happily make time for anybody that needs his help.
Meeting him was one of the best experiences of my life. The public arena will miss him but the man definitely deserves a break!
Ruth Whitehead, Cambridge
I saw Desmond Tutu at a gathering in Wales in the eighties.
I will never forget the way he almost skipped out into the middle of the rugby pitch where the podium was, and the way that, as it started to rain, one of the officials held an umbrella over him and he stopped in mid-sentence to say "thank you".
His grace and love is an inspiration - he is a fantastic example of what it means to be a follower of Jesus Christ. I hope he enjoys a blessed retirement.
James Grimwood, Chichester, UK
I met Archbishop Tutu on a choir tour to South Africa. He had just finished a BBC World Service Radio interview when he came in and gave us all high-fives!
We then sang to him and he started dancing. He loved it and I could see the wonderful inspiration that this man has provided for millions of people.
His enthusiasm is fantastic!
Sara Corbett, Frome, England
I met Desmond Tutu when he was at London University and working as a curate in my village church in Bletchingley, Surrey back in the 1960s.
He and his young family lived in the village and he made a lasting impression on me, my sister and all our friends in the village. He started a young persons discussion group when we would meet at each other's houses and just discuss the important things happening the world. I was training to be an accountant in London and used to travel up on the train with him. My sister and I also used to baby sit for his children and had some hilarious times with them.
I am very proud to have known him although I have had no contact with him since then as he moved back to South Africa to start his great works. But I have followed with interest all the good he has done with his life and the thing that I will always remember is his laugh - I'd know it anywhere.
David M Epstein, Baltimore, Maryland
I have had the pleasure of meeting him three times.
First when he spoke to Rotary International students in Cape Town in 2004. He was simplistic and sane with a great heart. I then was fortunate enough escort him to the airport for a trip back to Maryland my home state to speak at McDanial's College and eat a crab cake.
Our time together showed a humble man with a keen shine in his eye and an ability to listen to others.
The next meeting was in Ann Arbor, Michigan when he was awarded the Wahlenburg award. He sat with my wife Tasha at the head table that evening but the most remarkable part was when he played peek-a-boo with our one-year-old son. He showed there was more to him then just being a serious person of the cloth. He is a sincere man with lots of feelings.
The pictures of Desmond and my son as well as with my wife and self are priceless and will always be cherished.
Douglas Harrison, Watton, UK
Desmond Tutu was invited to a church in St Martin-in-the-Fields, London to unveil a statue commemorating the struggle for the ending of apartheid. I was there with two friends from my church, Mary and Alan. The service was very moving - Desmond Tutu preached and Labi Siffre sang.
After the service we found ourselves outside the South African embassy, and who should we bump into but none other than Desmond Tutu.
As a result of this meeting I am now able to claim that I am one of the thousands of individuals around the world to have been hugged by Desmond Tutu.
Deji Olukotun, Brooklyn, USA
Like hundreds of thousands of people, I shook Archbishop Tutu's hand.
I also took a photo that made it look like we were laughing and talking to each other, when I was in reality a few feet behind him.
What I remember from his speech - to a Rotary Club - was not his principled stance or invocations for justice, but rather his sense of humour. His silly jokes and bonhomie instantly put you at ease.
You can't teach that. I'm sure it helped him sustain his monumental career.
I am privileged to call Desmond Tutu a friend and mentor.
I'm CEO of Church Army and I persuaded him to be our president. He has visited our homeless project for women in London and made a huge impact. He has been a huge supporter of our work and sends me emails from his iPhone!
He is an amazing man who loves God and people.
He is inspiring and loving from a distance and up close.
I had the privilege of meeting Archbishop Tutu during the World Social Forum in Nairobi, Kenya.
In his moving and interesting speech, he spoke of God weeping over the injustices and oppressions perpetrated by men on their brethren.
Pointing out it was in Egypt that the famine-driven children of Jacob took refuge, he argued that Africa had enough wealth and resources to feed not only its own people but also migrants and refugees from other places - until the West looted its wealth and exploited its people.
A fantastic, eloquent speech, indeed!
Dez Kamara aka Desmond Tutu, Canada
I want to thank Archbishop Tutu for his religious, moral and societal service he made to South Africa and the globe.
I took the name Desmond when I was a kid after I came across him while reading News Week magazines in the early nineties because I liked his principles and all that described this great man and today, I do not regret being called Desmond.
My schoolmates in Sierra Leone and even in Canada call me Tutu, Bishop Tutu or Archbishop, and it gladdens my heart to have chosen that name and my parents supported me.
I even switched my names from Samuel Desmond Kamara to Desmond Samuel Kamara.
Thank you Desmond Tutu. May God bless you and South Africa.