Kenya testimony: 'My teacher abused me'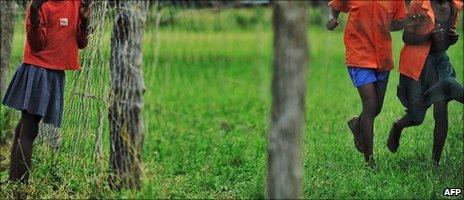 Hundreds of teachers have recently been sacked in Kenya for sexually abusing their pupils.
The authorities say the scale of the abuse has only become apparent in recent years thanks to a helpline for victims and the increasing use of mobile phones.
A young woman, who asked to remain anonymous, tells the BBC how she was harassed in her late teens by a teacher in the western city of Kisumu - and how the experience affected her.
I want to tell all other girls who are out there that this sexual harassment with teachers is real.
I went through the same ordeal three years ago with my teacher.
We used to trust him - the whole class. I didn't know that he could do something like that.
I remember I was in form two [classes usually of 14 and 15 year olds], we had this new teacher and he was a friend of our Christian education religious teacher and also a patron in Christian Union Fellowship in school.
He was saved [a fully committed Christian].
There was a time he called me to the classroom - asking me to be his girlfriend - like he wanted to have a relationship with me sexually.
This continued for some time and I told some of my friends, but they didn't believe me.
So [in the end] when I went to the staff room, I called one of our English madam teachers and I told her.
The matter was taken to the principal, who called me and called the teacher.
But then he turned around and kind of said I was lying - that I was the one who used to go to him to the staff room.
I used to go to the staff room every evening after the students went home, but it was because he used to call me. I stood my ground.
He was terminated from teaching in this school, I don't know if he went ahead and taught in another school, but I heard he died of HIV/Aids a year later.
Then after he went away there were some girls students, who came up and started speaking about him.
He didn't do that to me alone.
But it was really bad, it affected me.
My fellow boy students used to laugh at me. I remember they used to call me names and you can imagine that in class that was so hard for me I could not stand it.
They would refer to me as "Mrs [The teacher's name]". It was so bad and they used to laugh and other girls used to laugh at me in school.
I dropped out of school for a year but I went back to school for the next year and completed.
Related Internet Links
The BBC is not responsible for the content of external sites.