Thomas Lubanga: ICC trial of DR Congo warlord to resume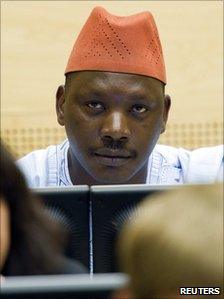 The International Criminal Court's appeals chamber has ruled that a trial of a Congolese warlord should resume after a three-month suspension.
In July, judges halted Thomas Lubanga's trial on war crimes charges and ordered his release when prosecutors refused to hand information to the defence.
Friday's ruling reversed the decision, but also rebuked Prosecutor Luis Moreno Ocampo for flouting court orders.
Mr Lubanga has denied using child soldiers in eastern DR Congo in 2002-3.
His is the first trial to start at the ICC at The Hague but the case has been plagued by legal challenges.
The 49 year old led the Union of Congolese Patriots (UPC), an ethnic Hema militia - one of six groups that fought for control of the gold-rich Ituri region.
The land struggle turned into an inter-ethnic war in which an estimated 50,000 people were killed and hundreds of thousands were left homeless.
Mr Lubanga's trial was suspended in July after Mr Moreno Ocampo refused to confidentially disclose to the defence the identity of an intermediary used by investigators to work with prosecution witnesses.
The judges said his actions amounted to "a profound, unacceptable and unjustified intrusion into the role of the judiciary".
They also ordered Mr Lubanga's release, saying it was "no longer fair" to detain him.
On Friday, the appeals chamber reversed the decision, saying the trial chamber had erred by resorting immediately to a stay of proceedings without first imposing sanctions to force the prosecution to comply.
But presiding judge Sang-Hyun Song rejected the arguments of Mr Moreno Ocampo that the trial chamber had wrongly found that he had refused to comply with its orders, and had misconstrued his position with respect to his duties of protecting victims and witnesses.
The "orders of the chambers are binding and should be treated as such by all parties and participants unless and until they are suspended by the appeals chamber", Judge Song added.
According to the ICC indictment, Mr Lubanga is accused of having committed war crimes of enlisting and conscripting children under the age of 15 years in the UPC's military wing, the Patriotic Forces for the Liberation of Congo (FPLC), and of using them to participate in hostilities.
His trial, which opened in 2009 after a seven-month delay over disputed confidential evidence, has been hit by repeated legal difficulties.
The first witness at the trial retracted his testimony after first saying he had been recruited by FPLC fighters on his way home from school.
One of the problems facing the court is that the Ituri region is still unstable. This means the safety of witnesses cannot be guaranteed.
Related Internet Links
The BBC is not responsible for the content of external sites.