Sudan rivals clash in capital amid north-south tension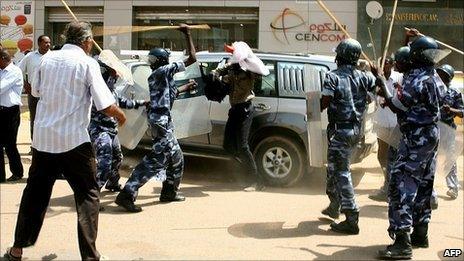 Sudanese northerners demonstrating in favour of national unity have clashed with supporters of southern independence in the capital, Khartoum.
Sudanese police helped chase away the southerners, who numbered about 40, beating them with batons.
Meanwhile, Southern Sudan's president has asked the UN to deploy peacekeepers along the north-south border.
South Sudan is scheduled to vote on whether to secede from the north in a referendum in January.
Saturday's violence in Khartoum broke out after a group of southerners turned up to a government-organised rally attended by several thousand people.
Dressed in orange T-shirts and caps, they chanted: "No to Unity. Yes to secession." Police then joined northern demonstrators in chasing the southerners away.
The BBC's James Copnall in Khartoum says the incident was a rare public display of the tension threatening to tear Sudan apart.
It came as a UN Security Council delegation was wrapping up a four-day visit to Sudan.
Southern President Salva Kiir made his request for peacekeepers earlier this week when the UN envoys visited the southern capital, Juba, diplomats said.
The UN has some 10,000 peacekeepers in Sudan, without counting its presence in the western region of Darfur.
Some UN staff are already stationed along the border, observing a 2005 ceasefire that ended two decades of war between the north and the oil-rich south.
Preparations for January's referendum are behind schedule, and there has been growing concern that a delay to the vote could trigger violence.
Related Internet Links
The BBC is not responsible for the content of external sites.