South Sudan rejects Gaddafi warning on independence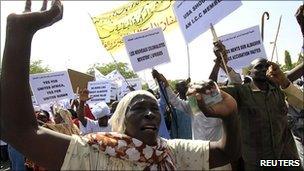 Southern Sudan has rejected Muammar Gaddafi's warning that a vote for independence next year could destabilise the rest of Africa.
Southern Sudan Information Minister Barnaba Marial Benjamin told the BBC that Africa had not broken up when Eritrea gained its independence from Ethiopia in 1993.
He said the people's choice should be respected, however they voted.
Tensions are rising ahead of the referendum due in January.
The vote was part of a 2005 peace deal which ended two decades of conflict between the mainly Muslim and Arab-speaking north and the south, where most people are Christian or follow traditional religions.
On Sunday, Sudan's President Omar al-Bashir criticised Southern Sudan's leader Salva Kiir for saying he would vote for independence and warned of the possibility of renewed conflict.
He was speaking at an Arab-African summit League in the Libyan town of Sirte.
Libya's leader told the same meeting that a vote for independence "could become a contagious disease that affects the whole of Africa", with various ethnic and linguistic groups also demanding independence.
"We must recognise that this event is dangerous," Col Gaddafi said.
These comments are in stark contrast to statements Libya's leader made after clashes between rival communities in Nigeria in March.
Then, he suggested that Nigeria should be divided into different states, sparking an angry reaction from Nigeria's government.
BBC East Africa correspondent Will Ross says there is no doubt that there is some unease at the African Union that other efforts at secession could be given a boost should Southern Sudan become independent.
But he says that while Africa's frontiers may have been crudely banded together by colonisers, many of the continent's conflicts are over competition for minerals rather than as a result of unwanted imposed borders.
On Saturday, supporters of independence and unity clashed in Sudan's capital, Khartoum.
There have also been warnings that the necessary preparations for the vote in the oil-rich region have not been made.
A visiting delegation of UN Security Council envoys last week said the timetable for January's vote was extremely tight but "doable".
But the UK's permanent representative to the Security Council, Mark Lyall Grant, told reporters they wanted to see a concerted push to resolve the many "key outstanding issues" before a vote could be held.
Mr Kiir earlier asked the UN delegation to deploy peace-keepers along the border with the north ahead of the referendum.
Between eight and 10 areas along the border, including the Abyei oil fields, are still in dispute and analysts say a clash at any of them could spark off a military confrontation. Both sides have sent troops there.
Related Internet Links
The BBC is not responsible for the content of external sites.