Guinea election commission split over head Camara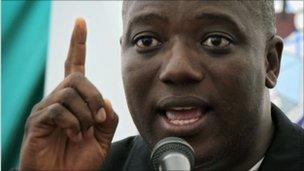 Almost half the members of Guinea's election commission want its head to be sacked, casting fresh doubts on the run-off due in less than two weeks.
Twelve of the 22 commission members have signed a petition accusing Lonceni Camara of causing disagreements between the two presidential candidates.
Last week, one presidential candidate took Mr Camara to court, accusing him of fraud - charges he denies.
The vote is intended to end years of authoritarian rule.
The run-off, initially set for July, was delayed amid allegations of fraud and then again put back after violent clashes erupted between rival supporters in September.
Amid the rising tension, military leader Gen Sekouba Konate met the two presidential candidates late on Monday and asked them to prevent their supporters engaging in acts of violence.
The BBC's Alhassan Sillah in the capital, Conakry, says state TV showed former Prime Minister Cellou Dalein Diallo and veteran opposition leader Alpha Conde agreeing to restrain their supporters, before shaking hands.
Mr Diallo is seen as the favourite in the run-off after gaining 44% of the vote in the first round.
Mr Conde won 18% but says he was defrauded of some 600,000 votes.
Mr Diallo's party took the election chief to court earlier this month, accusing him of hiding votes cast in his favour.
Mr Camara, who was appointed last month after his predecessor died, denies the allegations. The case has been adjourned until two days before the run-off on 24 October.
His critics also say the correct procedures were not followed when he was chosen to head the commission - again, he rejects these charges.
The first round was seen as Guinea's first democratic vote since independence in 1958, raising hopes of an end to military and authoritarian rule in the mineral-rich country.
Guinea is the world's largest exporter of the aluminium ore bauxite. It also has significant deposits of iron ore, but it remains one of the poorest countries in West Africa.
Related Internet Links
The BBC is not responsible for the content of external sites.