Zimbabwe's Tsvangirai disowns Mugabe ambassadors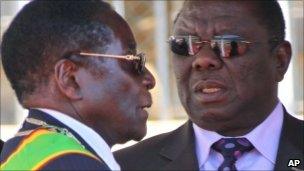 Prime Minister Morgan Tsvangirai has written to world leaders saying Zimbabwe's ambassadors do not represent his government.
He says the envoys were only chosen by President Robert Mugabe, with whom Mr Tsvangirai is sharing power.
But Mr Tsvangirai says he was not consulted over the appointments, which he says breaks the unity government's deal.
It is not clear whether the EU, UN and South Africa will recognise the envoys.
This is the latest sign of severe strains in the power-sharing deal, with elections due next year.
Last week, Mr Tsvangirai accused Mr Mugabe of violating the agreement by making several other unilateral appointments.
"They are not ambassadors - they are Zanu-PF deployees," Mr Tsvangirai's spokesman Luke Tamborinyoka told the BBC on Tuesday.
But he refused to say what action Mr Tsvangirai would like the foreign governments to take.
"That is up to them," he said.
Mr Tsvangirai on Tuesday met diplomats in Harare to explain his position.
He also wrote to Italy, Sweden and Switzerland, concerning Zimbabwe's ambassadors to those countries.
The leader of the Movement for Democratic Change recently complained about violence committed during public meetings to gather views on a new constitution.
Human Rights Watch has accused Zanu-PF supporters of being behind the attacks.
Mr Mugabe and Mr Tsvangirai, who are long-time rivals, agreed to share power after violence marred the 2008 elections.
Under their coalition deal, the two politicians agreed to draw up a new constitution followed by a referendum, and then fresh elections.
Related Internet Links
The BBC is not responsible for the content of external sites.