Nigeria's Dokpesi sues secret police over bomb arrest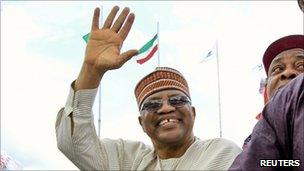 Nigerian media mogul Raymond Dokpesi has lodged a lawsuit against the secret police over his arrest in connection with the Independence Day Abuja bombings.
Mr Dokpesi, election campaign chief to a rival of the president in elections due next year, wants 100m naira ($660,000; £410,000) in damages.
He was one of nine people arrested in Nigeria over the twin car-bombings which killed at least 12 people.
He says the arrest was "malicious".
Mr Dokpesi was freed at least nine hours after being detained on 4 October - three days after the bombing.
He owns the Africa Independent Television network, one of Nigeria's biggest, and is running the campaign of former military ruler Gen Ibrahim Babangida.
Gen Babangida is challenging President Goodluck Jonathan for the right to become Nigeria's governing party's presidential candidate.
On Monday, another candidate for the People's Democratic Party nomination - the former Vice-President Atiku Abubakar - called for an international inquiry into the 1 October bombings to ensure the investigations were not manipulated for political reasons.
When Mr Dokpesi was arrested, officials said he had exchanged text messages with the alleged mastermind of the bombing, Henry Okah, who has been charged with terrorism offences in South Africa, where he is based.
Mr Okah is a former leader of the Movement for the Emancipation of the Niger Delta (Mend), which is fighting for more control of Nigeria's oil wealth for residents of the oil-producing Delta region.
He has denied any links to the blasts, but an e-mail purportedly sent by Mend said it had carried out the attacks.
If confirmed, this would be the first time Nigeria's oil militants have struck in the capital.
Mr Okah is believed to lead a militant Mend faction opposed to a government amnesty.
Most Mend commanders have joined the amnesty, set up to end years of unrest in the region which cut Nigeria's oil output by up to 20%.
While Mend says it is a political group, many criminal gangs also operate in the region, stealing oil and kidnapping people for ransom.
Related Internet Links
The BBC is not responsible for the content of external sites.