Niger's junta's deputy arrested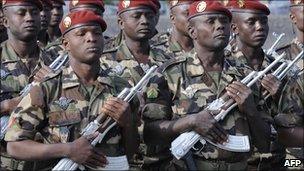 The deputy leader of the junta that took power in Niger in February has been arrested by paramilitary police.
Col Abdoulaye Badie is being held at the gendarmerie headquarters. No reason has been given for his detention.
The BBC's Idy Baraou in the capital, Niamey, says he was arrested on Wednesday, three days after state TV said he had been removed from his post.
A referendum is due to be held later this month on a constitution that would reduce the power of future presidents.
Our correspondent says there has been a notable increase in military controls in the capital since Sunday.
Col Badie has been a powerful figure in the army over the past 10 years - in charge of the military's finances, he reports.
The junta, headed by Maj Salou Djibo, has promised to revert to civilian rule before the first anniversary of its ousting of ex-President Mamadou Tandja.
Mr Tandja, a former army officer in his early 70s, was first elected in 1999 and was returned to power in an election in 2004.
He came under increasing criticism both at home and abroad after changing the constitution to allow him to stay in power for a third term.
Presidential elections have been scheduled for January 2011.