BBC hears Congo assassination testimony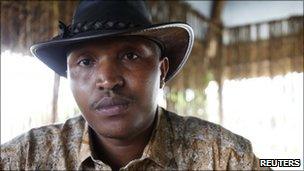 The BBC has obtained first hand testimony regarding a political assassination of a senior army officer in the Democratic Republic of Congo.
The killing last month was allegedly carried out by troops loyal to army Gen Bosco Ntaganda, an ex-rebel leader indicted for war crimes by The Hague.
A source said he got a call from the officer who thought he was going for a drink with Ntaganda's men.
He was heard to say: "I can tell you want to kill me", before his phone cut.
New York-based Human Rights Watch has called on the government to immediately arrest Gen Ntaganda, who is wanted by the International Criminal Court for allegedly recruiting child soldiers between July 2002 and December 2003.
Over the last year, as part of a complex peace process in the east where powerful militia leaders struggle for control of rich mineral resources, he was meant to be integrating his CNDP rebels into the national army.
Shifting violent alliances
My source, who asked not to be named, was close to senior military officer Lt-Col Antoine Balibuno.
Lt-Col Balibuno was reluctantly travelling in a car with men loyal to Gen Ntaganda in the eastern city of Goma when he phoned my source.
He thought he was being taken for a drink and a talk in a nightclub called the Dallas.
He apparently became worried because it appeared he was not being taken to the nightclub but towards Gen Ntaganda house.
Lt-Col Balibuno called my source on his mobile. They exchanged a few words, but he then left the phone line open.
My source, speaking on the phone in French, related what he heard next: "He was shouting: 'So you want to take me to Bosco Ntaganda's house.'
"Then he said: 'I don't want to go to his house. Tell now if you are going to assassinate me!'
"And then he said: 'And now I can see a jeep full of soldiers in front of us. Why is this jeep blocking our route?'
"He said: 'I can tell now that you want to kill me.' And at that moment the phone was cut."
My source learnt that a few minutes after the phone was cut, Lt-Col Balibuno was killed, having been shot in the head, neck and back.
The incident illustrates the shifting violent alliances between warring militias in eastern DR Congo.
The ICC has arrested several other Congolese militia leaders and each time it does it changes the dynamics of a fluid and dangerous situation.
Gen Ntaganda currently runs a powerful militia group within the larger, fragmented Congolese armed forces.
The government says it wants to co-operate with the ICC but they cannot hand him over for fear of further damaging the situation in the east.
But it is far from clear if the government in Kinshasa has the political will, or military resources, to mount the arrest.
Related Internet Links
The BBC is not responsible for the content of external sites.