UN to boost north-south Sudan border security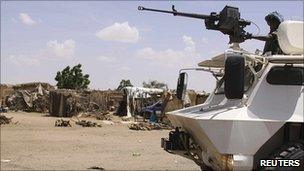 UN troops will be boosted at "hotspots" along the north-south Sudanese border, amid fears of violence ahead of next year's vote on southern independence.
The UN Security Council says the decision follows an appeal by southern Sudan's President, Salva Kiir.
Correspondents say tensions are rising ahead of the referendum, due to be held in January.
The vote is part of a 2005 peace deal which ended two decades of conflict between the north and the south.
At the same time, residents in the disputed oil-rich central area of Abyei will vote on whether to be part of the north or the south.
In a statement to the Security Council on Thursday, UN ambassador Susan Rice confirmed that President Kiir had asked for a UN-run 10 mile (16km) buffer zone along the north-south border.
Ms Rice, just back from a UN mission to Sudan, said Mr Kiir had "warned that he fears the north may be preparing for war and may be moving troops southwards".
UN peacekeeping chief Alain Le Roy later confirmed that UN forces in Sudan would step up border security in some areas.
"We will increase our presence but only in some hotspots," he said, adding that the UN mission did not have enough troops to create a buffer zone along the whole 1,250 mile (2,000km) border.
Between eight and 10 areas along the border - including the Abyei oil fields - are still in dispute.
Analysts say a clash at any of them could spark a military confrontation. Both sides have sent troops there.
Sudan is divided between the mainly Muslim and Arab-speaking north, and the south where most people are Christian or follow traditional religions.
Related Internet Links
The BBC is not responsible for the content of external sites.