UN: Benin two-thirds flooded after heavy rains, 43 dead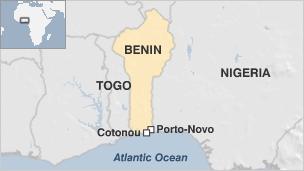 The United Nations says two-thirds of the West African nation of Benin is flooded after heavy rains.
At least 43 people have been killed in recent weeks, according to UN officials, and nearly 100,000 people have been made homeless.
Unseasonably heavy rains have caused the Oueme and Mono rivers to overflow.
The UN's Office for the Co-ordination of Humanitarian Affairs (Ocha) says there have also been 800 reported cases of cholera.
Aid workers are concerned about a cholera epidemic as the disease is spread through contaminated water.
UN officials have been travelling around the country ascertaining the damage.
About 55,000 homes are reported to have been destroyed and some of the casualties were a result of houses collapsing, according to officials.
Ocha says around $8m (£5m) from the Central Emergency Response Fund will be needed to provide essentials like food, clean water, and emergency housing for those affected.
Related Internet Links
The BBC is not responsible for the content of external sites.