Niger junta head Djibo sacks spy chief amid 'coup plot'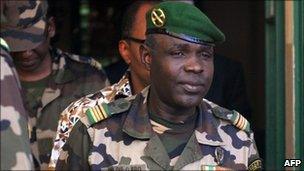 The military ruler in Niger has sacked his intelligence chief following the arrest of several junta members accused of plotting a coup.
No official reason has been given for the dismissal of Seyni Chekaraou but he is reportedly close to former deputy military leader Col Abdoulaye Badie.
Col Badie was one of those arrested last week.
There are fears that the splits in the junta could threaten the transition to civilian rule.
A referendum is due to be held later this month on a constitution that would reduce the power of future presidents, with elections scheduled for January.
The junta, headed by Maj Salou Djibo, has promised to hand power back to civilians before the first anniversary of its ousting of ex-President Mamadou Tandja.
Mr Tandja was ousted in February after he came under heavy criticism both at home and abroad for changing the constitution to allow him to stay in power for a third term.