Accused Kenyan minister William Ruto is suspended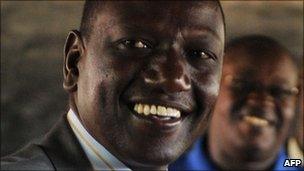 Kenya's president has suspended Higher Education Minister William Ruto, after a court ruled he must stand trial over corruption allegations.
Last week, three constitutional court judges dismissed his plea that he would not get a fair trial.
He is charged with defrauding a state corporation of $1.2m (£750,000) nine years ago over the sale of forest land.
Mr Ruto is a controversial figure in the coalition government that took power in 2008 to end post-poll unrest.
The BBC's Dayo Yusuf in Nairobi says the coalition leaders - President Mwai Kibaki and Prime Minister Raila Odinga - came under pressure to suspend Mr Ruto in line with the new constitution.
It was adopted in August and states that anyone facing criminal charges should step aside from public office.
Donors have long criticised Kenya's record on corruption.
Mr Kibaki may also be signalling that the government is now more serious in efforts to tackle corruption, and no-one will be spared, our reporter says.
Earlier this year, Mr Ruto faced suspension over a separate maize scandal.
The powerful Rift Valley politician, who has ambitions to run for president in the 2012 elections, told the BBC he had no comment as yet over his suspension.
But at the weekend he denied any wrongdoing, claiming that the judges' ruling was politically motivated.
"I am used to these things and those who took me to court said they were doing it because of politics," AFP news agency quoted him as saying.
The new constitution was designed to transform the country's politics and avoid the violence that followed the general election in December 2007 in which 1,300 people died and tens of thousands were displaced.
Related Internet Links
The BBC is not responsible for the content of external sites.