Freed Somalia aid worker Barnard reunited with family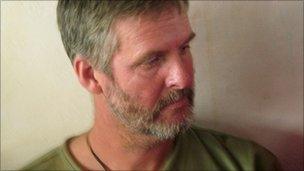 A British man released by kidnappers in Somalia has been reunited with his family in the Kenyan capital Nairobi.
Frans Barnard, a Zimbabwe-born security consultant with the UK-based charity Save the Children, had been seized by gunmen in Adado last Thursday.
His family said they were "incredibly relieved" that he was freed unharmed, the charity said.
Adado leader Mohamed Aden told the BBC eight of the suspected kidnappers had been arrested.
He said two gunmen had escaped but stressed that no ransom had been paid for Mr Barnard's release.
Mr Barnard arrived in Nairobi on Thursday after flying from Adado.
"We are truly humbled by the outpouring of support we have received from friends, family and well-wishers around the world," his wife and children said in a statement released by Save the Children.
Mr Barnard told reporters at the Adado airstrip that he was happy to be free.
"I thank local elders and the authorities in Adado who managed my release," Reuters quoted him as saying.
The charity has also praised the elders for their efforts in securing Mr Barnard's safe release.
"It's just a testament to Somali society that they were able to do this following traditional methods and we are obviously extremely grateful to them," said spokeswoman Anna Ford.
"The clan elders invited Save the Children into the community to do the work that we do and they saw Frans as a guest," she said.
On Wednesday, Save the Children said Mr Barnard was being looked after well in Somalia and was "in good spirits".
Mr Barnard was seized by armed men on 14 October in Adado, which is near the Ethiopian border.
He was being held by a local militia group, but the BBC's East Africa correspondent Will Ross said there was always a danger that he could be handed over the Islamist insurgents or pirates, who routinely take ships and crew members hostage in the area.
If that had happened, Mr Barnard's ordeal could have lasted for many months, says our correspondent.
Until now, the region around Adado had been seen as a relatively stable part of Somalia.
Mr Barnard was in the region to assess the safety situation with a view to setting up a new Save the Children project for malnourished children.
The charity is one of several aid groups considering relocating there after being forced out of more volatile regions of the country.
Several foreigners have been kidnapped in Somalia in recent years. Most have been freed unhurt.
Related Internet Links
The BBC is not responsible for the content of external sites.