UN drops award sponsored by Equatorial Guinea's Obiang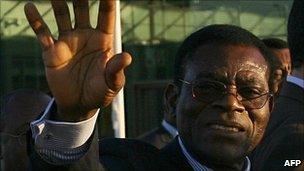 A United Nations agency has suspended plans to grant a prize sponsored by Equatorial Guinea President Teodor Obiang Nguema after lobbying by human rights groups.
Mr Obiang is accused of rights abuses, rigging elections and corruption. He has previously denied such charges.
The UN scientific and cultural agency, Unesco, said its executive board agreed to suspend the life sciences prize.
It said it would continue consultations on the award's future.
The prize was created by the board in 2008, and Equatorial Guinea was to finance it for five years for a total of $3m (£2m).
The suspension was welcomed by campaigners.
Tutu Alicante, of EG Justice, said: "The way Teodoro Obiang has governed Equatorial Guinea undermines all the values Unesco stands for.
"The suspension is a sign that the Obiang government cannot pull the wool over the eyes of the international community with empty human rights public relations campaigns."
There was no immediate response from President Obiang or his government.
It argues that criticism of the country's leadership is misguided and that it is taking steps to better the lives of its citizens, including by building hospitals and schools.
Earlier this year a coalition of human rights groups condemned Unesco for planning to award the prize.
The 28 groups said Unesco should end its association with "one of the world's most infamous dictators".
They asked the UN agency to identify the source of the funds used to sponsor the prize and said it should be used for the education and welfare of the people of Equatorial Guinea, rather than the glorification of their president.
Equatorial Guinea's vast earnings from oil and gas should give its population of 600,000 people a theoretical income of $37,000 (£23,000) a year each.
But most Equatorial Guineans live in poverty after 15 years of plentiful oil production.
Mr Obiang seized power from his uncle in 1979 and was re-elected last year with 95% of the vote.
Watchdog Transparency International has listed Equatorial Guinea as among the world's most corrupt countries.
Last year, a French court threw out a lawsuit against him and two other African leaders, accusing them of using public funds to buy luxury homes. The court said foreign heads of state could not be sued.
In 2004, a US Senate investigation discovered that Mr Obiang, and members of his family, were the signatories to accounts at Riggs Bank in the US which had received millions of dollars in revenues from the central African country's oil wells.
Related Internet Links
The BBC is not responsible for the content of external sites.